Copywriting can be a tedious and lengthy process, especially if you're looking to create something unique and impactful. For the lazy copywriter, however, it doesn't have to be that way. By using swipe files, you can speed up the process and create something that's even better than the original.
Swipe files are sets of pre-written content that can be used as the basis of your own copy, saving you time and giving you the freedom to be as creative as you like.
Here we'll take a look at 5 types of swipe files for the lazy copywriter that helps you save time!
Pre-written headlines to grab attention
Are you a lazy copywriter looking for a shortcut to capture attention and create more successful copy? Well, look no further! Pre-written headlines are the answer to all your problems!
Whether you need to write a catchy tagline for a product or a compelling title for an article, pre-written headlines should be your go-to resource.
They are designed to grab attention and provoke a response from readers and can help you create higher-converting copy quickly and easily. So what are you waiting for? Get a list of pre-written headlines now and start getting more of what you want!
"Transform Your [Product/Service] with Our [Unique Benefit]"
"Experience the [Benefit] of [Product/Service] Today"
"Get [Desired Result] with [Product/Service]"
"Join the [Number] of Satisfied Customers Using [Product/Service]"
"Unlock the [Secret/Benefit] of [Product/Service] and Achieve [Desired Result]"
Remember, headlines should be short, attention-grabbing, and relevant to your product or service. Try to include keywords that accurately describe your offering and highlight the benefits that potential customers will receive by choosing your product or service.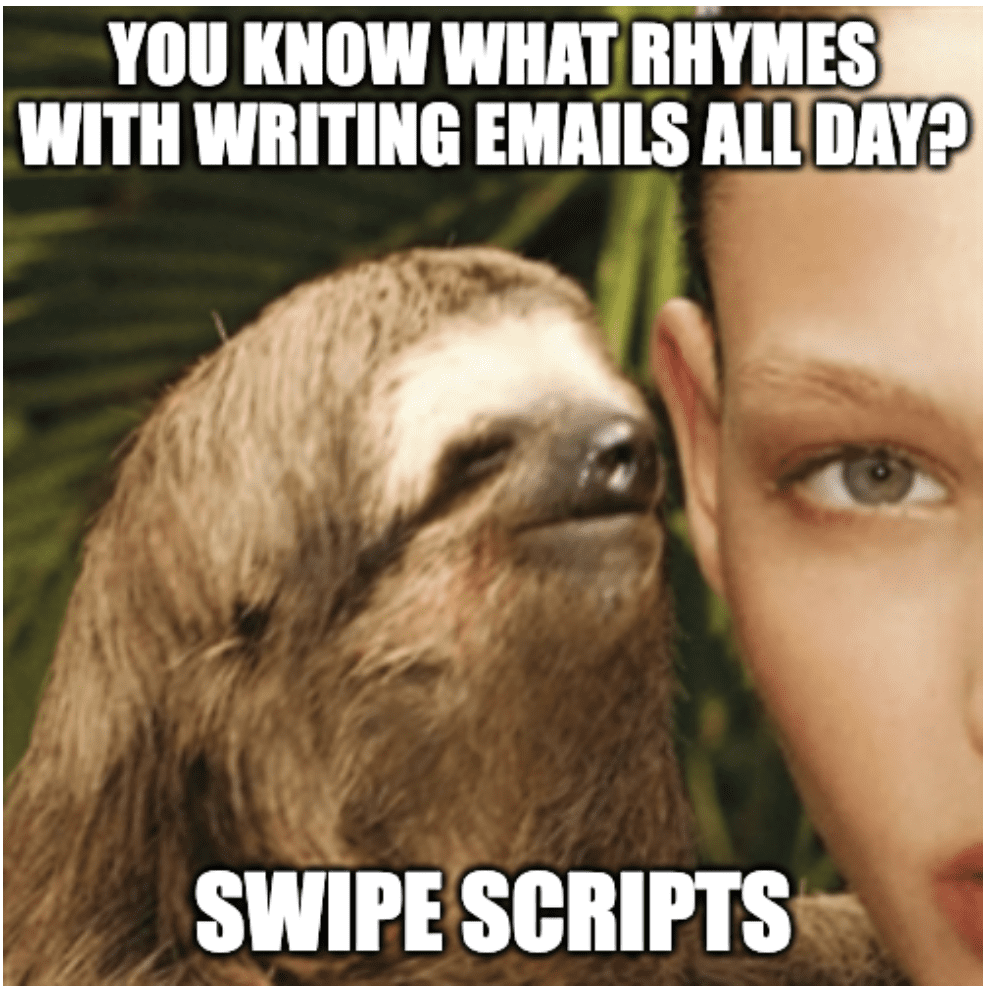 Fill-in-the-blank copy templates
For the lazy copywriter, there's no easier way to get more of what you want than with fill-in-the-blank copy templates. These time-saving templates are a great way to help you hit your deadlines and make sure that you have all the information you need to create a great piece of copy.
These templates also come in a variety of styles, so you're sure to find one that fits your needs. Whether you're looking for a fun and playful template to add a bit of fun to your copy, or a more serious template to keep things professional, you'll find it here.
So, don't waste any more time struggling to come up with the perfect copy. With fill-in-the-blank copy templates, you can be sure that you'll have the perfect words every time.
At Swipe Scripts, we offer a huge database of swipe files for the lazy copywriter – over 2000+ email swipes, headlines, subheadlines, social posts, and more are available on our homepage ;).
Canned email responses
As a copywriter, it's not always easy or convenient to craft a response from scratch.
That's why the "swipe files for the lazy copywriter" should always keep a few canned email responses in their file.
Whether it's a response to a customer's query, a thank-you email message, or an email to promote a product, canned email responses can save you time and effort. Plus, you can customize them to suit your tone and style.
So, the next time you're stuck for a response, grab one of your trusty canned email responses and tweak it to your liking!
"Thank you for considering our product/service. We believe it would be a great fit for your needs."
"Our product/service has helped many other companies like yours improve their (specific benefit)."
"We offer a 100% satisfaction guarantee. If you're not happy with our product/service, we'll make it right."
"If you have any questions, please don't hesitate to reach out to us. Our team is here to help you."
"We have limited-time pricing available. If you're interested, I'd be happy to provide more details and help you get started."
Go-to subject lines
When it comes to writing successful emails, having a great subject line is key to increase open rates. Unfortunately, coming up with the perfect subject lines can be time-consuming.
That's why we've put together this list of 5 go-to subject lines to add to the swipe files for the lazy copywriter. Whether you're writing a sales email, a newsletter, or a promotional email, these proven subject lines will save you time and get you the results you want. Give them a try!
"Get more of what you want with [Product/Service]"
"Don't miss out on [Benefit of Product/Service]"
"Limited time offer: [Product/Service] at a special price"
"New and improved: [Product/Service]"
"Solve your [Problem] with [Product/Service]"
Ready-made social media posts
Have you ever wished you could just have pre-written social media posts ready to go at any time? Well, with "swipe files" you can! Swipe files are collections of posts that you can use with just a few clicks.
They are perfect for the lazy copywriter who wants to save time and get more of what they want. With a swipe file, you can quickly create posts for any social media platform.
Simply choose a post from your library, customize it to fit your brand, and it's ready to go! Swipe files are a great way to save time, energy, and money, and they're just plain fun and playful.
"We're excited to announce a new sale on (product/service). Save (percentage/amount) now through (date)!"
"Don't miss out on our limited-time offer on (product/service). Get (benefits) when you order today."
"Did you know that our (product/service) can help you (achieve specific benefit)? Learn more and save now."
"Looking for a (specific product/service)? We have a great selection and excellent customer service. Shop now."
"Our customers love (product/service) for its (unique features/benefits). Get yours today and experience the difference."
Swipe files are invaluable for any copywriter, but especially for lazy copywriters who need to write quickly without sacrificing quality.
By having a few swipe files for the lazy copywriter on hand, you'll be able to save time and get more of what you want out of your copywriting projects. With a little effort, you can create swipe files that are tailored to your own needs, making it even easier to crank out high-quality copy in a short amount of time.
As a lazy copywriter, you know how important it is to have a solid collection of swipe files to help you quickly and easily craft effective emails. But where do you find high-quality swipe files that you can rely on? Look no further than our collection of swipe files for the lazy copywriter.
Needless to say, swipe files are an essential tool for any lazy copywriter. They provide a quick and easy way to access a wealth of proven copywriting formulas and ideas, allowing you to quickly and easily create compelling copy without spending hours brainstorming and writing from scratch. So why not give them a try and see how they can help take your copywriting to the next level?
Join our Free Facebook Group full of email marketers and copywriters just like you!